Acadia has dozens of trails, ranging from summit scrambles to lakeside loops and point-to-point walking paths. In the opinion of this generally landlocked gal, the Ocean Path was exceptionally fine. Hugging the coastline for 2.2 miles, the path runs from Sand Beach (the only sandy beach in the park) to the cliffs of Otter Point, with stunning coastal views and opportunities to clamber down into the cold Atlantic if so inclined.
One of Acadia's best features is its tourist bus system, funded in large part by Maine's legendary outdoor sports outlet, L.L. Bean. You can get to just about anywhere within the park using Island Explorer buses. There is no charge to ride, although donations are gratefully accepted.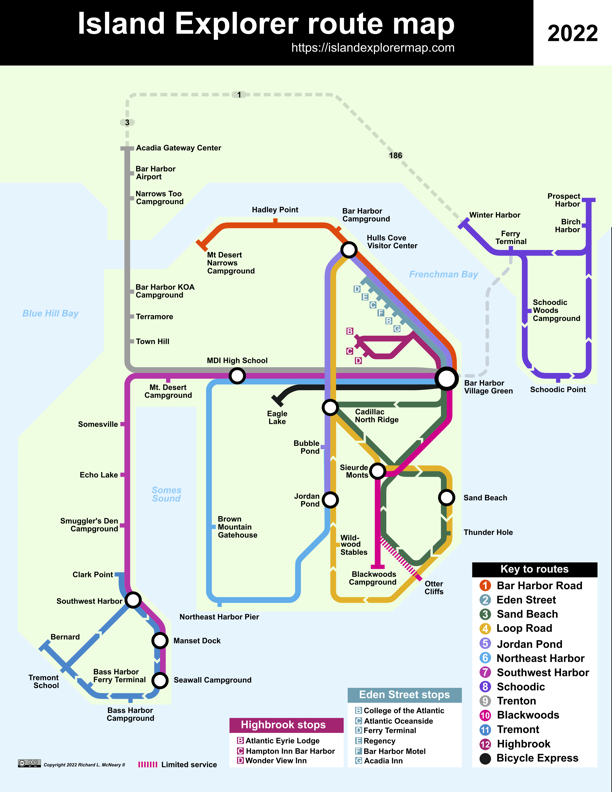 For our trek along the Ocean Path, we walked to the Village Green (in the center of Bar Harbor, just 10 minutes from our lodging) and boarded the #3 bus to the Sand Beach access point.
Sandy beaches are a rarity along this stretch of rocky Atlantic Ocean coast, because winter waves pound the coast and suck the sand away. Sand Beach is unique: tucked away in a protected cove, its sand is mostly made up of pulverized seashells. Families thronged there on this sunny August day.
Escaping the frolics, we made our way up to the beach overlook and on to join the Ocean Path.
The National Park Service describes this route as one of the most popular and congested routes in Acadia and, boy, were they correct!
The road was a non-stop traffic jam of crawling cars, with hordes of people cramming past each another along the walkway. But folks were friendly and the scenery was gorgeous.
Thunder Hole is the most popular stop along the Ocean Path. The site is a sea cave that booms dramatically when waves smash against the narrow opening – and the access points were absolutely jammed with gawkers.
Past Thunder Hole, the crowds thinned out somewhat – probably because the path gains elevation, becoming fairly steep in places.
The climb takes one gradually up to top of Otter Cliff, the highest coastal headland in this part of the continent, with marvelous views down to the coast and across the Atlantic.
From Otter Point, we caught the #5 bus north along the west side of the Park Loop Road, going past the Jordan Pond House (of popover fame – #12 below) and on to the Hulls Cove Visitor Center (#1). There we transferred to the #1 bus which delivered us back to the Bar Harbor Village Green.